Attention: Bookworms!!! Ready for summer? Reading outside a cafe, while sipping your favorite coffee, reading in a beautiful local park, or on the balcony of an apartment in the morning and just after sunset - how do these sounds? When in Paris, you can actually visit the best bookshops to satisfy your cravings.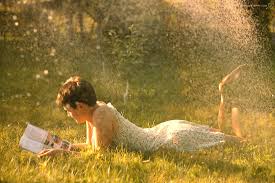 As the peak Summer season draws ever closer, we are all getting prepared for our summer vacations. For some people this will involve months and months at the gym, as they work tirelessly to get into shape and get the beach body they've always dreamed of.
For other people, it's about getting all the accessories, the clothes, the glasses, the bags, the right suitcases ( because you really need to separate yourself from everyone else at the baggage collection point). Other types of people, who are better than I am, might even try to learn the local language and pick up some facts or general knowledge about the area. What a great idea, but not something I will be doing. I believe in relaxing during my holiday time. For me the preparation begins and ends with one thing - a good book.
If you have a wander around your local high street now, you'll find every window display is full of ideas and suggestions for novels and stories you should take with you on your vacation. For me, it is so important to sit back and relax and get into a good story. Every summer, I rent a apartment for a couple of days in central Paris and spend a considerable period of time, reading outside a cafe, while sipping my coffee, or reading in a beautiful local park, or my personal favorite, on the balcony of my apartment in the morning and just after sunset.
I'm a pretty slow reader. A book of about 500 pages can take me well over a week to finish. I know some people, who love reading like me, can literally finish a book in 24 hours or even less if the story is that compelling. So I decided to write this post for all the tourists out there, who spend ages choosing their summer read and then finish it in rapid time and don't know where to get another one.
Paris actually has a lot of English language bookshops. The vast majority of them can be found in the centre. Ok, it's true, a lot of the iconic bookshops have disappeared and this is a terrible shame. It seems like a difficult business to try and create an independent book shop exclusively selling books in English in the heart of Paris. But there are still many options available, even if they are slightly on the more commercial side of things. For me, WHS is always nearby. It's on the same street as the Louvre, so you will definitely be in the area (number 248). It's also great for English and American newspapers, so you can catch up on the latest news, if you don't have a T.V in your apartment.
Another great option is Shakespeare and Company ( no connection to the man himself) Just across the river in the 6th, this place has a better stock and is less commercial than WHS, so you can spend some time here and get lost in the titles. So much better than ordering online and a great way to spend an afternoon.