Apart from La Defense, Champs Elysees, and Trocadero as the three of the busiest and biggest Christmas markets in Paris, you can look for smaller Christmas markets that are equally enjoyable. Check out these lists and dates...
Christmas markets are very common across Europe, but to tourists, seeing a Christmas village appear in the middle of a busy metropolis such as Paris can be puzzling. How can one city accommodate so many Christmas markets and life-sized Christmas villages? The secret is in the location: most Christmas markets and Christmas villages in Paris today are situated in open, often not-crowded places.
La Defense, for example, commands quite a handful of visitors during the off season. Since it is off the tourist path, tourists find it difficult to gauge just how vast the land around La Defense is, but visiting during the Holidays and seeing La Defense find room for hundreds of stalls, over 350, should be enough to tell you that La Defense has enough room for holiday merrymaking.
As we noted in our newsletter for the month of December, three of the busiest and biggest Christmas markets to visit are in La Defense, Champs Elysees, and Trocadero. Even outside of the holidays, these three locations are frequented by tourists; evidently, the visits tend to increase over the Holidays and New Year's.
However, if what you are looking for are smaller Christmas markets that are equally enjoyable as the Christmas Markets in La Defense, Champs Elysees, and around the Eiffel Tower, try the following locations:
Where to go: Montparnasse Christmas Market
Dates open: 15 December 2020 - 4 January 2021
What to expect: Alsacian treats and other provincial French delicacies. Wine is also sold by some vendors in the area.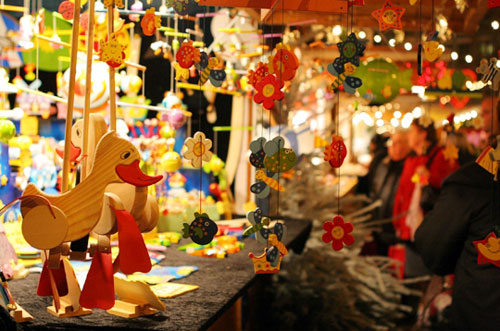 Located just right in front of Tour Montparnasse, this 40-stalled Christmas Market is perfect for a small, intimate shopping. Since it is not so crowded or jampacked with tourists and natives, you should be able to easily navigate through the crowd of people without having to worry about dodging hundreds of visitors every time. Many people are starting to realize that the Christmas Market in the Montparnasse area offers quite a variety so expect a bit of a crowd build-up nonetheless.
Where to go: Notre Dame Cathedral
Dates open: Second week of December
What to expect: arts, crafts, classic French cuisine served during the holidays
The Notre Dame Cathedral is a popular tourist attraction, but the equally interesting Christmas Market in the area has often been overlooked. In recent years, the Notre Dame Cathedral Christmas Market carried some simple arts and crafts, but this time around, the market here will add French mulled wine, chocolates, delicacies, and other French favorites. La Defense will carry similar items so if you find it too tiring to take the metro to La Defense, the Notre Dame market should be a good alternative.
Where to go: Republique
Dates Open: 7 December 2020 - 15 December 2020
What to expect: a carrousel, some community games anyone can participate in, waffles, musical entertainment
A newly renovated square was recently opened in Place de la Republique. If you want to see the changes first or spend your holidays at the Christmas market here (which is opening for the first time), make sure to schedule a visit. The Republique Christmas Market will only consist of 50 vendors, but the selection will be varied. Games, mascots, tents, and gourmet cuisine are just a few things you should expect in this area.
Where to go: Gare de l'Est
Dates Open: 29 November 2020 - 14 December 2020
What to expect: Mostly Alsatian
The location itself hints at what you should expect Christmas markets in this area will be selling: mostly Alsatian goods like wine, pretzels, and other delicacies from the eastern side of France. Because the Christmas market is located within the train station grounds, expect a bit of a crowd when shopping for some Alsatian-made goodies.
Other Christmas Markets to Visit:
Maison de l'Alsace (in Champs Elysees)
Open from 24 November 2020 - 23 December 2020
Place Vendome
Open from 1 December 2020 - 31 December 2020
Saint-Sulpice, 75006
Open from 1 December 2020 - 24 December 2020
Place Saint-Germain-des-Prés, 75006
Open from 15 November 2020 - 6 January 2021
One of the longest running Christmas markets in Paris
Place de la Nation, 75011
Open from 1 December 2020 - 24 December 2020
Montmartre, 75018
Open from 6 December 2020 - 5 January 2021