Looking for a different experience in spring break? Need to escape from the crowd of the Louvre Museum, Eiffel Tower, Versailles Palace, or Disneyland? Try the world-famous Musee D'Orsay to see some of the best impressionist artists in history.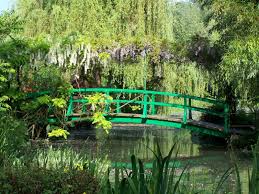 Have you been in this city for longer than a week? Do you need to escape it? Paris offers a host of attractions, but if you are staying long term, you might be interested in what lies further afield. If you go to the world famous Musee D'orsay, you'll get a chance to see some of the best impressionist artists in history. Perhaps the most famous of whom is Monet. Wouldn't it be interesting to look at a painting of Monet and think, hum, that's just an hour out of Paris?
For many tourists who are here for a week or 10 days, the surrounding areas are normally limited to the Palace at Versailles and its beautiful gardens or a trip with the family to Disneyland (Florida's little cousin). But there is a lot more to do than just those things. Giverny is a perfect mix of culture and nature. Ok, so it probably will not be at the top of everyone's list of things to do, but it's definitely worth it.
Despite having beautiful parks, the city can be a bit overwhelming at times. The tourist destinations can be crowded and stuffy, especially during the Summer. The small town of Giverny is only 75km ( roughly one hour by driving) north west of Paris. Monet actually lived here and painted most of his famous landscapes (such as Waterlilies Bridge) in his garden. Today, his home has been turned into a museum and you can walk freely around his beautiful and huge garden. It will be difficult to imagine that Paris is on your doorstep.
Giverny offers a break from Paris and its easily reached by car or train. In Paris, there are several luxury car rental companies in the city which will help you to travel in style. But if you are going to use public transport (which is excellent by the way), the train is quick, clean and efficient and also more cost effective. The train leaves regularly from Saint-Lazare station (another scene of a famous Monet painting) and takes just over an hour.
Many (but not all) of the train services have a first class option if you want to travel with a bit more comfort. Entry tickets to his home and garden cost around 10 euros. But it's worth noting that it only opens from March to November. Its closed during the winter except for special occasions.
The town of Giverny itself offers a delightful insight into rural French life and has a host of interesting and authentic restaurants offering amazing local cuisine. It's the perfect day trip to get away from it all, explore some nature and escape the sounds of the city for just a couple of hours and see some art that you won't see on the walls of the musuems in Paris.