When traveling, how would you find out where are the best restaurants, events, or things to do? Reviews. But not just reviews. Find out authentic reviews online so you'll be guided accordingly and won't ruin your stay. Keep reading to find out...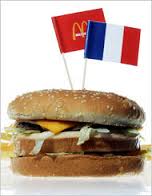 Warning this blog post may massively offend French people and especially people from Paris. I decided to write a post all about food. I've lived in Paris for two years and the food is just wonderful. But I'm not talking about French food. I do think French food is wonderful, don't get me wrong. It's one of the best cuisines in the world and some dishes are beautifully complex. But there are probably over a million blogs and articles dedicated to the task of telling everyone how wonderful the food in Paris is. But if you are a bit like me, you guys probably will get a bit sick of the change and want some old fashioned American food.
First of all, if you feel this way, don't feel guilty. It happens to the best of us. Just because I get a craving for stuffed potato skins or a pumpkin pie doesn't mean I hate French food and it doesn't mean that I'm turning my nose up at it either. It just means, there is a little part of me that misses my home and I wanna have a part of that ... on a plate. After you have killed the guilt, you need to embrace the pride.
If you say you are craving American food to some Europeans, they will literally expect you to either run into a movie theatre and demand popcorn or attempt to find the nearest McDonalds. We have good food and ok, it's definitely not as respected worldwide as French or Italian food but we need to have some pride in our food. My country's cuisine is not exclusively defined by fast food. So with this in mind, I decided to write a blog about my favorite American eatery.
The place I like to eat at, is called Breakfast in America (easy name, right). And it's actually so good, that there's two of them. I just discovered that recently when I was wandering the streets of Paris and found it. Both are pretty much the same. The one I generally go to is in 17 Rue des Écoles that's in the 4th district of Paris. A nice area and pretty touristy and international so its possible you will be in the area anyway, either to sightsee or because you've rented a luxury apartment or a nice hotel room. Think of this place as a cross between a New York diner and a trendy Brooklyn brunch cafe.
There are also many more great places dotted around the city, such as Ralphs in the 6th district or Joe Allen in the first district and many many more. Eat with pride my fellow tourists and never let your cravings make you feel guilty. Now if you will excuse me, I'm going to have a peanut butter sandwich and an Oreo milkshake.