Discover Paris as the first city to spearhead the free bicycle movement. Home to the finish line of the most famous bike race in the world! What's more interesting is that the city has a dedicated bike festival every June. Read more...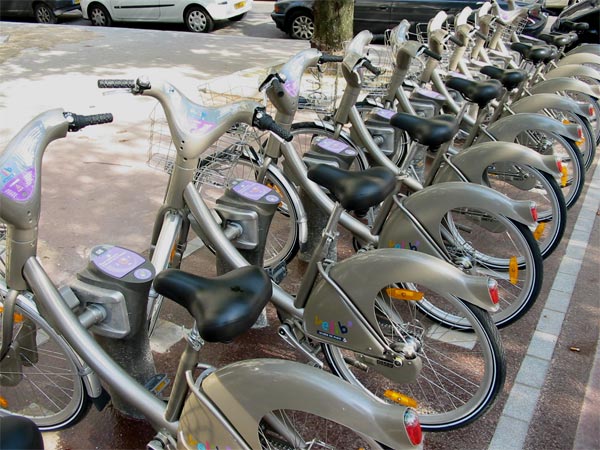 Almost every major city across Europe now has one, but like almost everything else, the movement, apparently started in Paris. Home to so many cultural institutions, artistic innovation and important historic events, Paris has given the world so much. But this post isn't about what you would expect. I confess, I'm not much of an art lover. Well, I think it's great but its not exactly why thing. I'm much more of an outdoors person and I was happy to discover the Paris was the first city to spearhead the free bicycle movement.
Home to the finish line of the most famous bike race in the world, the city also has a dedicated bike festival every June. According to my sources (Wikipedia and my Parisian friends), Paris was the first city to introduce public bicycles scattered across the city for everyone to use as a mode of transport. And no one could have predicted how popular it would have become.
How exactly does it work?
Ok, so there are literally hundreds of bike stations across the city. As you would expect, most of them are in the city centre. They are available for 24 hours or even for 7 days, if you plan to stay in the city for longer. If you want even longer you can sign up for a subscription. You can purchase the service online or at any of the bike stations. Instructions are available in English and if you get really stuck or you have a problem with your bike or membership there is even a dedicated English speaking customer service team and an English language website.
Oh, how silly of me, to forget. In case it wasn't obvious the name of this blog post, Velo Libre, is the name of the service, just in case you want to Google it. The first 30 minutes of every journey are completely free, libre (free in French). So if you are planning a short vacation to Paris, this is a great idea. You get all the necessary exercise you need, so there no need to feel guilty about eating all that cheese or drinking all the wine. But remember, don't drink and cycle, you could hurt not only yourself but others around you.
While other cities have followed suit and copied this system, the Parisian version still remains the best one, in my opinion. Barcelona has a great service but its not for tourists, you need to have a tax number to avail of the service. London has a similar service but honestly, despite the cities best efforts, the city centre is not bicycle friendly.
I live there and cycling around the centre is great, but Zone 1, just isn't as a well designed for bikes as Paris. Amsterdam, the great bike city of Europe, its amazing for bikes but everyone already owns one, so there is no really need for a service with this many bicycles. Thank Velo Libre, for helped me burn the calories and seeing the city in a new way.