Traveling with kids? Then, you probably thinking about child-friendly things to do. How about museums? Yes, museums. How about an incredible Magic Museum? It's only a 5-minute walk from the Louvre. Your children will probably love!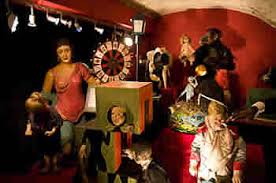 Queuing up at a book shop last week waiting for the latest Harry Potter book, kind of made me feel a bit like I had been transported back in time to 15 years ago, when I was doing exactly the same thing. Only this time, I'm queuing up with my two children. Throughout the years and the 8 different movies that have been released, millions of toys and video games, they too have picked up the Pottermania.
It seems like it was just a rapid explosion that would fade away after some time, but after last week, that idea may be wrong. If you don't know what I'm talking about; there is a new Harry Potter book. It's not exactly a novel like the other ones and it's not written by the same writer, it's actually a play and is currently on stage in London and New York. The book was reawaken my kids love of all things magic.
So how does that fit into Paris? Good question. Well, if you are looking for child friendly museums and things to do, this recent resurgence of Pottermania might warrant a visit to the incredible Magic Museum. It's only a 5 minute walk from the Louvre and honestly, your children will probably find it more interesting. Mine did. It's very inexpensive but I can't directly say how much exactly it cost because I don't remember. It think it was about 4 pounds.
You can spend 1 to 2 hours in there and while it is super interesting, it has the delicate balance of being engaging but also educational. You learn quite a lot about history, society and physics by looking at the different magic tricks, how they work, how they are performed, who started it, etc etc. Less about wizards and witches and bit more about real people, with over 100 items on display, you won't be bored.
What's also great about it, is that its' not a very busy museum. Paris has more museums that any other city in Europe ( that includes cities which are much larger in size, like Moscow or London) and yet people only really tend to go to the same ones over and over again. Once you've seen 1 museum you've seen them all, right. No! Wrong!
If only just to escape the crazy crowds of tourists in August, try to do some research and go to some museums you've never heard of. I was pleasantly surprised with this one. You can find out more about this museum and many other museums that you may never have heard of by visiting websites such as The Parisian or Time Out. They can even tell you if there are some interesting temporary exhibitions happening.