Surely you know about macarons. Those little sweet treats that are beloved in Paris have practically taken a life of their own. You see them in magazines, on social media, on commercials, and even in a Hollywood movie. They're so pretty and colorful that you almost don't want to eat them. But when you do, you wouldn't want to stop. Crispy meringue cookies sandwiching a delicious cream or ganache feeling—sounds like heaven, right. And the great thing is, you wouldn't need to go to Paris to get them. You can actually make them yourself and here's how!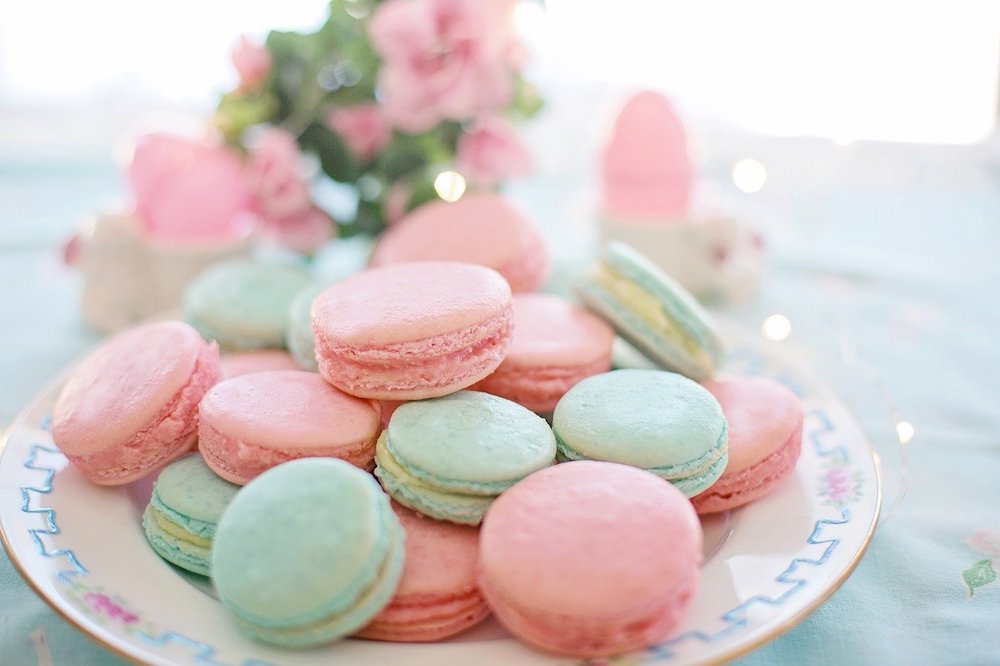 Get Your Ingredients
Of course, as with any other recipe, the first thing you do is to prepare your ingredients. To make some tasty macarons, you're going to need a lot of things. For the crispy cookie shells, you'll need 1 ¾ cups of powdered sugar, 1 cup of almond flour, 1 teaspoon of salt, 3 eggs, ¼ cup of granulated sugar, ½ teaspoon of vanilla extract and 2 drops of gel food coloring.
For the filling, if you want it simple, you can always opt for jam. But for the classic buttercream delight, you'll need 1 cup of unsalted butter, 3 cups of powdered sugar, 1 teaspoon of vanilla extract, and 3 tablespoons of heavy cream.
Combine Ingredients in a Bowl
Now, start the process by making your tasty macaron cookie shells. First, mix in your almond flour, powdered sugar, and salt. You can use a food processor to make it easier and to really blend all the particles together. In a separate bowl, crack open your three eggs and remove the yolks. Beat the egg whites together until you have a glistening white meringue mixture. As you beat it, add in the granulated sugar. Continue beating until it becomes good and thick.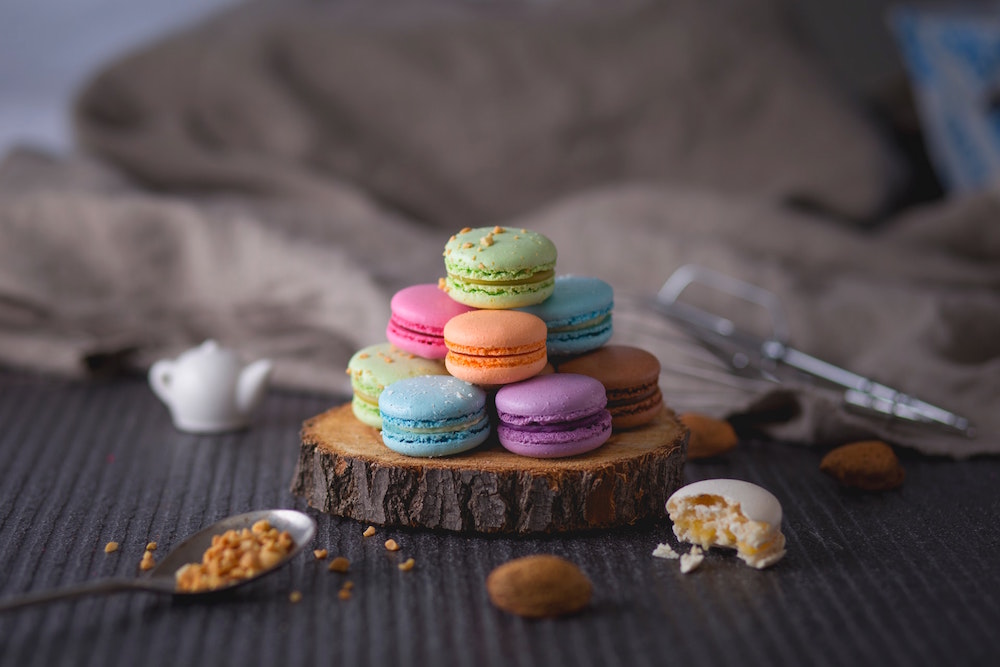 Add Food Coloring
Once you have thick meringue, add int he vanilla and continue beating until it has all blended well together. And as you beat, add in the food coloring too. That's what will make your treats colorful and pretty. However, don't just go for random colors, especially if you have certain flavors in mind. It's always best to correspond the color of your macaron to its flavor. For instance, if your macaron will have a sweet rosy flavor, make it pink.
Mix in the Flour Mixture
Once your meringue has turned into the color you want it to be, add in the flour mixture. But don't pour everything all at once! As you continue to beat your meringue, add in about ⅓ of the flour mixture every once and a while. This way, it's more likely the flour and salt will really blend deep into the meringue. And when you bake them, they will easily rise and have that wonderful crispy texture.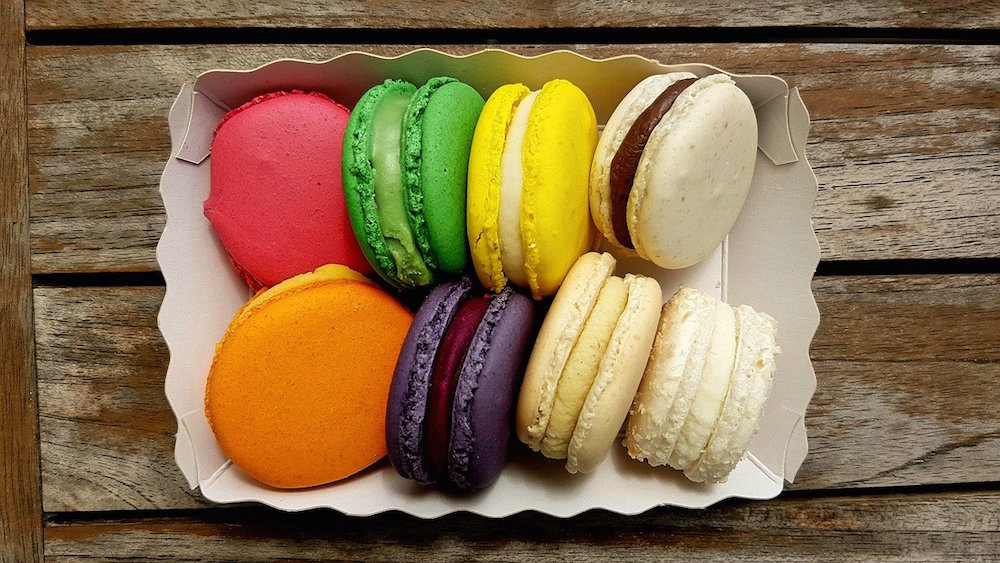 Transfer Batter to Piping Bag
Once everything's all together, it's time to put the mixture into your piping bag. It's important that your piping bag is very straight and has an extremely narrow tip. this allows you to be very precise with your macaron shells. Although you can get creative with the shapes if you want, a classic macaron treat always has both upper and lower shells equal in size and shape. And you'll only achieve such accuracy in both cookie parts if your piping bag is straight enough!
Pipe the Batter onto Parchment Paper Tray
On your baking tray, place a parchment paper on which you're going to pipe your macaron batter. Make sure the paper is set nicely unto the tray, so much so that any sudden movement will not make it move. Once everything is in place, start piping! Pipe your macarons depending on the size that you want. Though the standard size is often 1½ inches, you can always go bigger or smaller. Just remember that each pair has to have two identically shaped and similarly sized shells!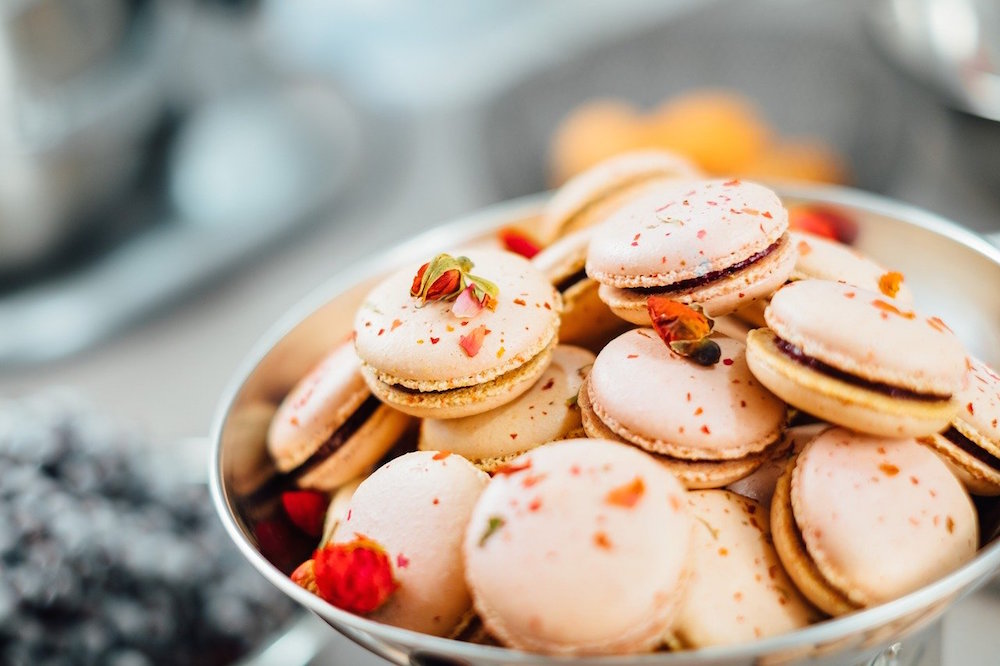 Let Them Sit at Room Temperature then Bake
Now it's time to... chill! That's right! Even though you've piped your macaron batter onto your baking tray, you don't set it inside your oven right away. Let it cool for a bit at room temperature from 30 minutes to an hour, or at least until it's dry to touch. Why? So that your cookie shells will end up light and airy after you bake them. And when you do bake them, bake them at 300˚F (150˚C) for 17 minutes.
Make the Filling
While your cookie shells are baking, you can go make the filling. Now, you can have all sorts of fillings for our macarons: jam, ganache, buttercream, etc. But for this batch, you're going to make buttercream filling. In a large bowl, mix together beaten butter, vanilla, and cream. Similarly to your shell batter, add each ingredient at slightly separate times all while you're continuously beating. Doing so makes everything blend well together, especially if you're adding a particular flavor into the mix. Once the consistency is all thick and rich, you're good to go!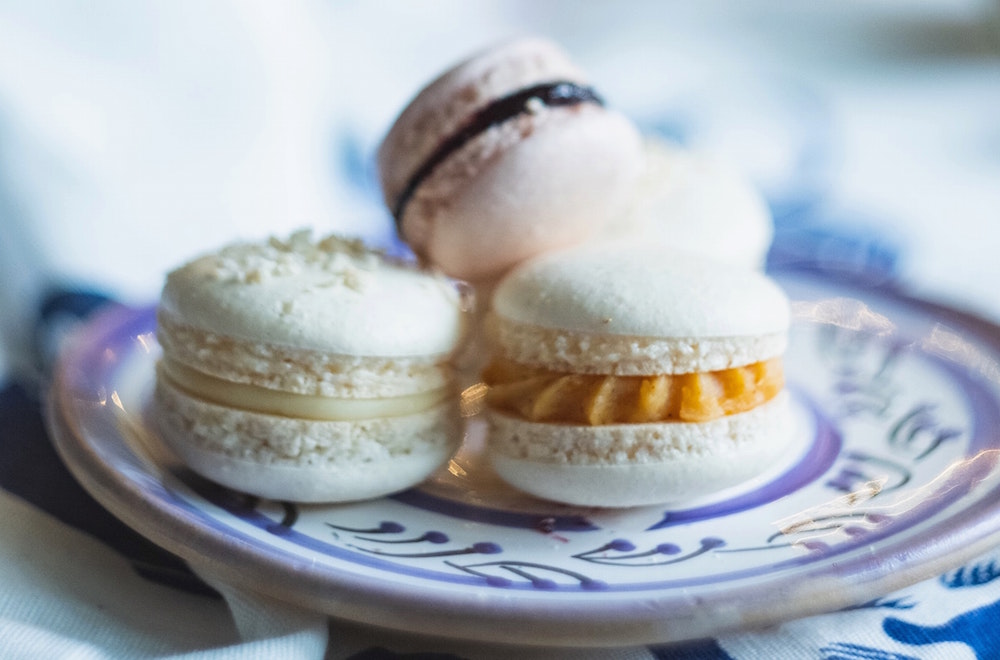 Add the Filling Between the Macaron Shells
By this time, your macaron shells should be good and ready as well. Take the tray out of the oven and let the cookies cool for a couple of minutes. Once you can touch them without burning yourself, put each piece on a plate and start adding in the filling. Remember that you're going to sandwich the filling with two slightly hard cookie shells, so when putting on the buttercream, just add a big dot in the middle. The filling will spread nicely and evenly as you combine the shells together.
Serve and Enjoy
And now, you're all done! There's nothing left to do but serve and enjoy! You can have them with tea during the afternoon, as dessert after lunch or dinner, or when simply eat them as a snack. Oh, but don't forget to capture them first! You did a great job making them, you deserve to snap away to help you remember the experience!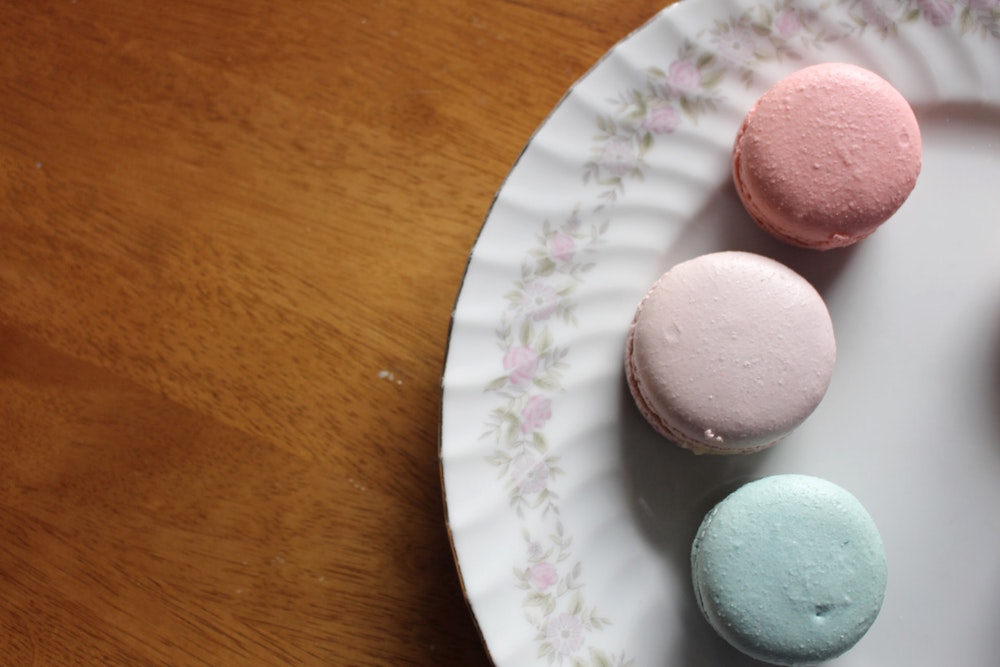 Feel like a Parisienne by biting into one, two or more of some delicious pastel macarons. But you don't have to fly all the way to the French capital to make them! They're easy to bake yourself in your own kitchen and it's loads of fun to do it too!