Paris's luxurious 16th arrondissement is a true page-turner, and time will fly as you seek out fresh produce at the Marché de Passy or leaf through the offerings of nearby designer boutiques. Each new chapter of your stay will be more unforgettable than the last one.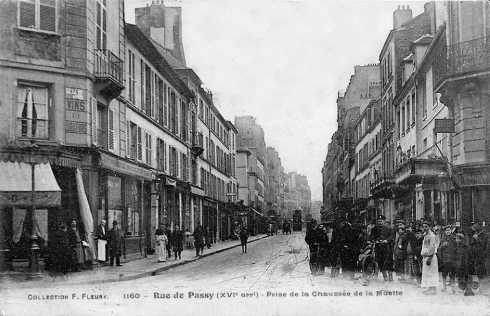 The Parisian district of Passy has long been overlooked by tourists and rarely appears on ones list of things to see and do in the city. Located in the 16th district of Paris, it has traditional been home to some of the city's wealthiest residents. Elegant, and quiet, Passy is a great place to stay for easy access to the city but having the comfort of staying in your own secret corner of the city.
Not famous for its monuments or museums, Passy is considered to be the real Paris. Walking along the streets for a couple of hours, you probably won't hear a lot of English or see queues of people holding cameras, maps or guide books...waiting to get in somewhere. You will also probably notice that a lot of the restaurants don't come equipped with menus in English, German and Spanish. This is where real people live and spending just a couple of days here will give a vast insight into real Parisian culture and daily life and if you choose to spend a few days longer, you'll notice how vastly different it is from the rest of the city.
For me, I stumbled upon Passy accidentally, I think that's how a lot of people tend to discover it. My first trip to Paris was a short weekend break to visit a friend. I had never been to the city before, and I couldn't pass up the opportunity to stuff every bit of sightseeing, into my schedule. I had to spend at least half a day in the Louvre, I had to go up the Eiffel Tower, party in the Latin Quarter and I had a long list of recommendations from friends about where I should go to eat. I enjoyed my stay a lot and even now, looking back at my holiday photos, I'm still impressed about how I managed to do everything. But experience has taught me a lot.
It wasn't so much a holiday, more like checking things off a list. My friend, a old university friend who had moved to Paris to study a masters, had taken up residents in Passy. At first glance, I loved it. Its beautiful and unlike many parts of Paris, its quite green. But I literally did not spend any time there. I was too busy taking the short metro journey to the very centre of Paris and seeing all the things I needed to see. But I'm happy to say that the second time I went back to visit, I had a totally different experience.
When you visit the city of Paris, or any city for that matter, the most important thing to do, is not see all the famous stuff. The most important thing that you need to do is find the pace of the city. Paris is a remarkably lived in city and each district is a bit like a world of its own. Second time around, I got to know the pace of Passy. I didn't leave the district at all really. I felt like I had discovered a part of the city just for me. So what's so great about it then?
The off the beaten track feeling is great and as the number one destination for tourists in the entire world, you kind of feel a bit like you're doing the same thing as everyone else... until you get to Passy. Secondly, its beautiful. Located on the river bank of the river Seine, you are never far from amazing views and a nice walk along the river. Surrounding the district are some of the largest parks and green areas in the city and the big boulevards lined with trees. Haussman designed it, (like most parts of the city) so its big and spacious.
An interesting fact, which a very knowledgeable Passy resident told me, is that the 16th districts is one of the largest districts in the whole city but with a very low population density. The moment he said it, it quickly became so obvious to me. People don't really live on top of each other here like they do in other parts of the city. You can breathe. In Paris, especially in the summer time, that's so important.
What about food?
Passy is an up-market place and most of the city's rich live here. It has a defining elegant and chic characteristic and that shows in the food. The restaurants here are top notch but are much less flashy and much more unassuming than places in the city centre. What draws local people to these places, is not the location (beside famous sights) or the decor, its the food. Nothing more and nothing less.
For me, this a big plus and its super important to remember that while this city boosts some of the finest restaurants and cuisine in the whole world, you need to be a bit careful where you eat as you could end up paying a lot for a little. Like every other city, there are traps where tourists can fall into. I'm happy to say that I felt like in Passy, I could just walk in anywhere and never really felt like I wasn't going to get good food or my money's worth. It really takes a lot of the stress out of the doing the best activity in Paris ... Eating.
Is it easy to get around?
Yes. But it's not the centre. I specifically remember my friend telling me that it was 5 metro stations away from the Champs Elysees. 5? That far. Wow. I must really be in a deep suburb, I thought to myself. But this is absolutely not the case. Unlike other cities the metro in Paris, really only goes around the central part. So 5 stations, is not exactly what you might think at first. The stations are all super close to each other, almost a minute apart. So 5 stations, become 5 minutes, which makes it a lot nearer.
That's something to think about, when you are trying to chose a luxury apartment in a nice district of the city. Oh and perhaps the biggest selling point, is that you can walk to the Eiffel Tower, and what a walk that is. If you choose to stay in Passy, you can follow the river to the tower but you will approach it from a completely different direction. If you're a little nerdy like me, this will also make you feel like a bit of a V.I.P.
Ok, so what is there to do in Passy?
It does have it's fair share of museums and they are definitely worth a visit. The range of different options is quite impressive for a district that it considered residential. From the homes of famous French writers to impressive thought-provoking art galleries, Passy packs in a lot more than you would expect at first glance. And the great thing about these smaller galleries is they tend to have a lot of free exhibits. I got the privilege to go to a gallery opening, completely free, of a local French graphic designer. It was amazing and they gave me free wine. What could possibly be better?
According to my friend, events like that happen all the time in Passy, but tend to go under the radar of tourists. For me, it was a defining event in my French experience.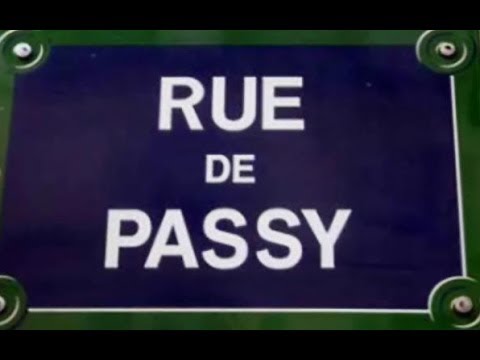 Some random facts about Passy, that you probably never knew,,,,
Benjamin Franklin lived here One of the most important icons in American history lived in the small corner of Paris for 7 years during the American Civil . The is now a street named after him called Rue to Benjamin Franklin.
Passy was only added into the city of Paris in 1860 and was one of the last regions to form the Paris we know today. Before that, Passy was a commune and was separated from the city. It is largely for this reason, that the place as has a village feel to it.
One of the museums, I hinted at earlier, is the Maison De Balzac, which Honoré de Balzac lived and wrote in Passy. I can't call myself a book critic or literary expert and if you're reading this and thinking to yourself ; I don't know who on earth that is; don't worry, I thought the same thing. Apart from of super famous names like Voltaire and Victor Hugo, I know nothing about French literature. But trust me, it is worth a visit. He is considered the father of realism and wrote several short stories and plays and the museum is interesting. I was dragged along by an art loving friend and expected to be extremely bored. I was hoping there would be a good gift shop. But I was pleasantly surprised and found the museum enlightening and educational.
So is it all amazing?
Well, no. Nothing is. I think when you are looking for a place to stay in Paris you have to think about the type of holiday you want to have. If you are young and want to party and be only a stones throw away from the biggest clubs and best party spots, Passy would probably be an absolute disaster for you. So think about that first before you travel.
If you like quiet, calm, upmarket, luxury and a delicate but not overwhelming level of art and culture, Passy is for you.
So where can I find more information?
Like most tourists, I use Tripadvisor a lot. I like that it is user generated, so I feels a bit more authentic and easier to get a more accurate idea of what you are looking for. I'm not a fan of guide books because they are normally too big to carry around with you, especially if you are also armed with your phone and a camera.
Tripadvisor has a lot of reviews about Passy, from tourists that have stayed there. None of them are negative, which I think is really cool. Some people have that it's average and they were expecting a lot. I guess that's why, you need to managed your expectations well. There is also reviews on restaurants, cafes and galleries in the district, you can figure out which one if the right fit for you.
If you are planning on only visiting Passy for the day, just to see a different side of Paris, Timeout has a great article. It offers suggestions on things to see and do in the district by following a particular route.
There are numerous hotel options in Passy, most of them are at the higher end of the scale, as is everything else here. They look luxurious but I have to confess, I've never stayed in them. I was lucky enough to stay with my friend in his apartment. He doesn't live there anymore but I think if I went back I would probably try and find an apartment to stay in, instead of a hotel room. I feel a bit more free in an apartment and I kind of do this strange think, where I trick myself into thinking I actually there. Its nice to bask in a bit of happy delusion for a while. Why not, right?
Welcome2France offers a wide range of luxury apartment in and around the Passy area for couples, individuals and even groups. You can contact them for a list of their best suggestions. Happy staying in Passy. If you're like me, you'll love it .