Why consider having a second home in Paris? The largest city on the continent of Europe - dynamic, cultural, artistic, and fun. It is everything you want in a city. It's an easy choice. The trick with buying a second home is balancing between the investment and place.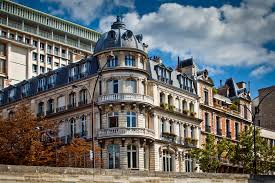 The ultimate investment for anyone in their lives is definitely their home. I've worked in banking for years and it is commonly thought (not just by us industry professionals) that a mortgage is possibly the most complex and stressful undertaking you will ever experience. For some people, it seems like problem, after problem, after problem. You play a waiting game. You have to act super fast to get the place you want at the price that want.
You are so dependent on other people and other factors. The banks, will they give you money? When is the person ready to sell and ready to move? How much is it worth and can I get the price just a bit? What's the market like and why? Oh the questions, there are so many questions and they are not easy to answer. For many, many years it was my job to provide an answer to all those questions. But don't worry, this post is not about economics or market value rates.
For the very lucky few people, once you have a home, you start looking for a holiday home. It's a pretty luxurious investment and one which requires a lot of time. A holiday home is not for everyone with money however. For me, I decided to invest in one and I knew I wanted one in a city. Property values in major cities across Europe, almost never go down in value. Quite the opposite actually, they tend to go up and up and up.
Many of my friends and colleagues in the industry have decided to invest in property in Spain or Portugal along the beautiful beaches in the various resorts dotted around each country's coastline. I decided against such a decision. Nice places, yes, this is true. But what will those houses be worth in 20 years. No idea. And as far as I was concerned, it wasn't worth the risk.
I decided to invest in a city that I always love to visit and I could actually see myself spending a large amount of time there when I retire. The trick with buying a second home is balancing between the investment and the actually place. It's not all about money, of course it's not. That's not a good way to look at anything. But I knew I had to be clever with my choice and so should you. I choose Paris. The largest city on the continent of Europe, this ever evolving city is anything but boring. It's dynamic, cultural, artistic, fun. It is everything you want in a city. It was an easy choice.
The property market in Paris is a bit unique to that of the rest of France, in the sense that it never goes down in price. If you have reading anything about the French economy thenwhat you know is true. It is not doing very well. Since the global crash of the 2008, it was a city that was hit hard (just like everywhere else, you could say) but it has picked up and recovered significantly but it still not right back in the position in was in the glory days of the early 20th Century. However, property prices in Paris continue to increase. They are not rocketing like before, but they are definitely going up in value.
Sadly, this can't be said for the other parts of France. Even just a couple of miles outside of Paris, its almost a completely different story and many people are in homes they can't afford. In the case of a holiday home, the lesson is simple. Make sure you have the necessary finance you need and get the professional advice you need, before you make a decision.
Ok, so this the part of the blog post with the nice stuff. Where exactly should you live? I think this causes a lot of stress for some buyers but when I was choosing a place, I found this part quite fun. Paris is a remarkably lived in city. Each district is very distinct and different and they all come with their pros and cons. It is not possible to go through every district in the city. That would take a lot more than a blog post. In fact, that would be a novel. Choosing the district is a hard one. Don't make a rash decision. Is the district safe?
Look at the figures. Yes, Paris is romantic and beautiful but there is crime and it would be foolish to overlook this. It's just the same as every other city. What about the transportation links? The rail network in France is incredible but frequently prone to strikes. Friends of mine, who require a train to get around have sometimes suffered. Make sure you have all the services that you need. And then of course, there's the tourists. No one wants to feel like a tourist. Even tourists don't like to feel like tourists.
If you are looking at an area to buy, believe me, pick somewhere multicultural (especially if you're French is not up to scratch, but we'll talk about that later). In the month of August, virtually every district gets taken over by tourists but there are still pockets they don't know about. In the winter months, the city is generally quieter but there are still districts that are constantly busy, crowded and served with a loud bang of people speaking English. You don't want this. Who wants to feel like they are in Disneyland for 12 months of the year?
If you have children, then the task of choosing a location becomes even more complex. The state is heavily involved in the education system and private schools are hard to come by. In many cases they are not even necessary as the standard of public education in France is quite high and also unlike the U.S or U.K the general quality of each school is more even. There is not a big difference between them.
However, unless your children speak French, you may need to check that the school has the necessary resources for help your child adapt. In most cases, the language barrier will mean that your children will need to attend an international school. A great opportunity both in terms of education and in terms making friends, but not a cheap one. International schools can be quite pricey and their location should be a top priority when choosing your location.
In all might sound a bit stressful and believe me it is. It's good to get an estate agent or property manager on board. Yes, they are expensive and the more you are willing to splash out on a property, the higher their commission will be. But, it's a necessary expense and if you get a good property manager they can even make it look like fun. They don't just take the stress out of it, they are essential. The French love paperwork and buying a home, whether a holiday home or a permanent residence requires a lot of hoop jumping and form signing.
Why buy in Paris?
This is a good question and despite being the capital, you'd be amazed at how much it gets overlooked by people. The downsides are basically it's location. If you want a holiday home, most people want warm weather and a beach. If we invest, we want to feel like we are really getting a luxury property in a very different world from we live. This is the standard citearia when choosing a place and yes, Paris doesn't offer a beach and is quite far from the coast. So that's the downside. But just because it's far, doesn't mean that the coast is inaccessible. As I've said before, the French rail network is great.
But lets look at the positive sides of buying a property in Paris. As a world city of culture or history, the City of Light doesn't really need an introduction. If you are completely unaware of the amazing range of exhibitions, museums, and general cultural output, then we might be barking up the wrong tree, so to speak. One of the reasons why I choose Paris is because its a global transport hub. Not the most romantic or tasteful of positives to begin with, but for me it was a big factor. You can get direct flights to Paris from just about anywhere in the world. Most of the budget airlines fly into a least 1 of the 3 main airports, so it's easy to get back and forth from your home to your home in Paris. Also, because of its popularity as a transport hub, the price is very competitive and rarely increases in the summer. The same can not be said of the south of France, where the prices rocket at particular points of the year.
There is also a language issue which is not quite as bad as Paris. I know a lot of people who have bought a second home in Paris to use for vacations are faced with this problem. If you don't speak French, you feel a bit like an outsider. If you speak English, you tend to live in resort centers where everyone speaks English and it's a weird bubble where everything is almost exactly the same as home. Both of these situations sound very negative to me.
I don't want to be in an English speaking bubble but I also don't want to struggle and panic everytime I want to buy some cheese. The international flair of Paris has meant I have completely avoided falling into that trap. I get to practice my basic French on my neighbors and also the guys in the wine bar downstairs know me and correct me when I say something wrong. For the moment, that work fine, and it allows me time to get better.
You are never bored in Paris. There is a very famous expression "when one is bored of London, one is bored of life. For their is in London all that life can afford", I think this expression is perfectly accurate, if you just changed the word London for Paris. The city is fact paced, dynamic and loud. But once you spend longer than a week here, it is so easy to get off the tourist track. There are some amazing parks on the outskirts of Paris, where you can read a book and escape completely. You would never know you are in a city.
I think I could write a book on my experience buying a place in Paris and then maybe another book on how happy I am with my decision. But maybe the second one wouldn't sell as many copies. Conclusion is simple, don't judge a book by its cover and make sure you have all the facts, do the research and get professional help.