What makes a dream home in Paris? A great location? Lots of space? A classic design? Truth be told, these are all qualities of the finest luxury apartments in Paris. But to make it a dream home, there has to be something fantastical about it. Something that will make everyone covet your place. Like a view of the Eiffel Tower, perhaps? You can't get any more quintessentially Parisian than that. Living in a high-class home that offers an enchanting view of the iconic monument is the absolute fantasy. And you can make that fantasy into a reality if you rent any of these exceptional luxury rentals.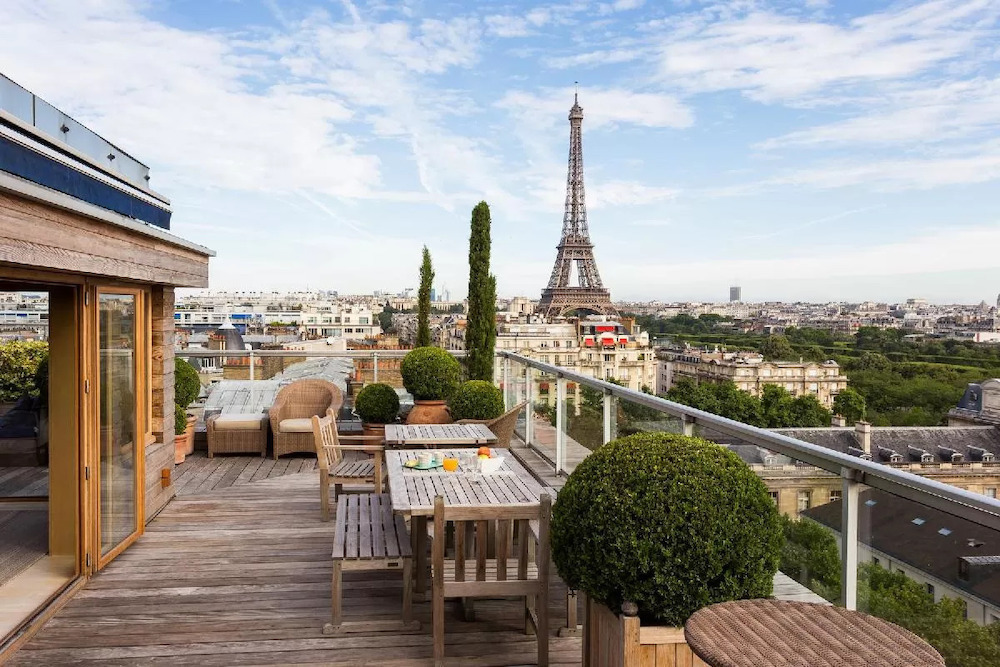 Avenue de la Motte-Picquet
If you've ever dreamed of living in Paris, you've probably pictured yourself staying in a place like this rooftop penthouse on Avenue de la Motte-Picquet. As far as luxury homes in Paris go, this is the dreamiest of them all. Firstly, check out the awesome view of the Eiffel Tower! When you go to the rooftop deck, you can practically see it in all its monument glory. This is one of the best reasons to live in the
7th arrondissement
! Secondly, the apartment itself is pretty spectacular. There are four bedrooms, three bathrooms, a spacious living room, and a chic rooftop deck. What's not to love?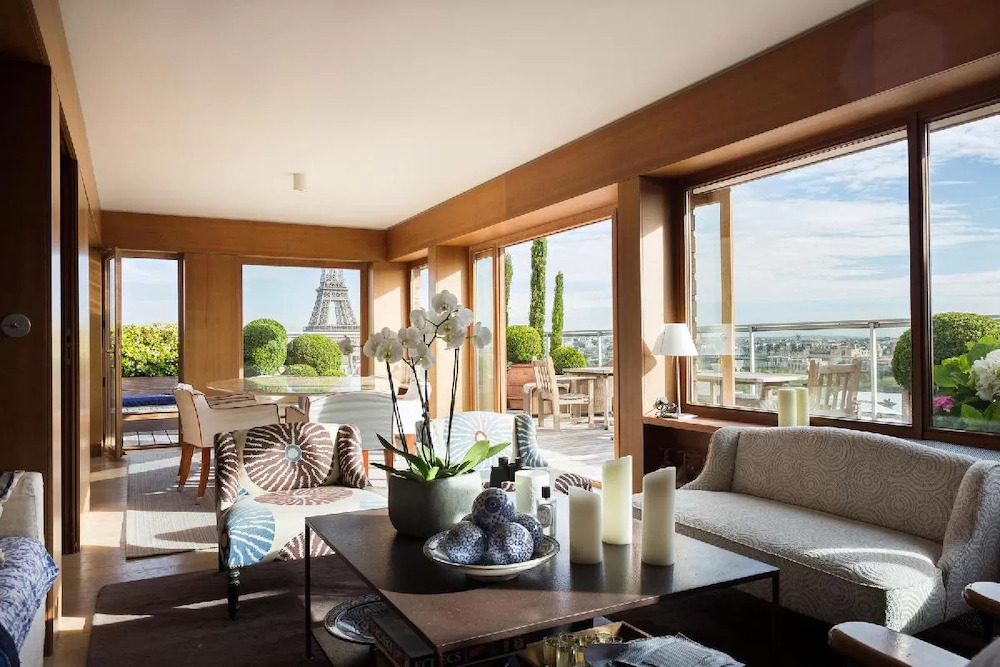 Avenue de la Bourdonnais III
Avenue de la Bourdonnais is literally right beside the Eiffel Tower. Not only can you see the landmark from any luxury apartment located here, but you barely have to travel far to visit it when you want. And yes, this elegant two-bedroom luxury rental on Avenue de la Bourdonnais offers some of the best views of the tower. You can clearly see it from any window! And if you go on the terrace, the monument is practically looking over you. As for the home itself, it's pretty and cozy. The cream color scheme elevates the classic touch and gives it a bright and airy vibe.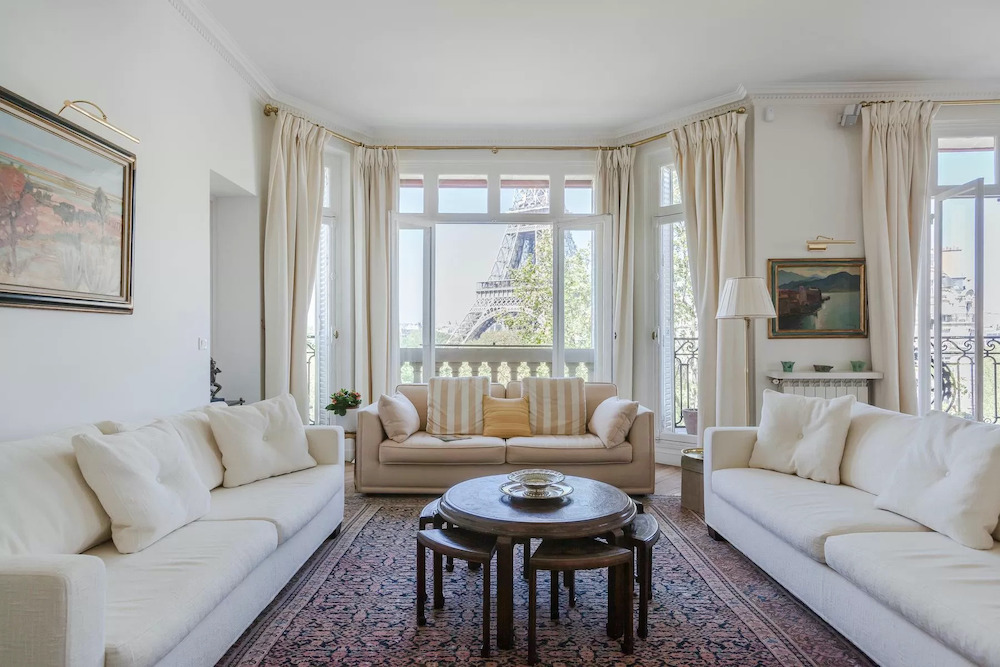 Trocadero - Poincaré
A terrace with a view of the Eiffel Tower? Yes, please! That is the dream Parisian home after all, right? Especially ones like this two-bedroom apartment in the Trocadero district. The distance between this place and the Eiffel Tower is just right that you can see the monument in all its entirety. And the terrace that offers this view isn't half bad either! It's a pretty big space, wide enough to host a soiree even! Now imagine hosting a get-together with the
friends you made in Paris
here! You're all chatting, laughing, and clinking champagne glasses all while the iconic tower sparkles in the background.
Fantastique
!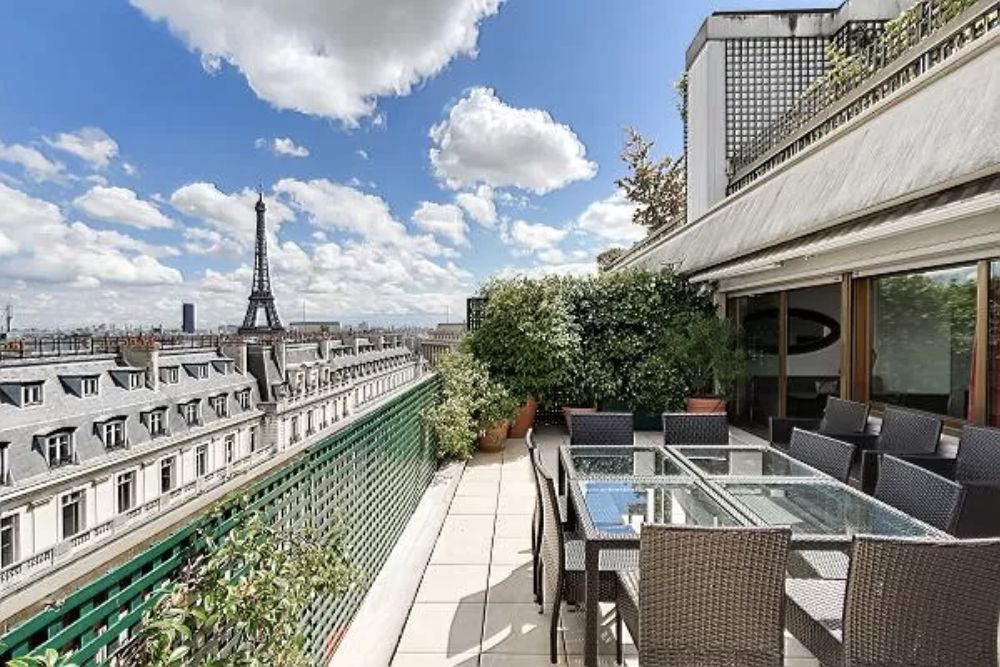 Trocadero Albert de Mun
Also in the same district is this modern yet cozy two-bedroom home. The place is only a stone's throw away from Place du Trocadero, the famous spot that's opposite the Eiffel Tower. This alone should already give you an idea of just how awesome your view of the famous landmarks will be from here. Although the balcony here isn't as big as the others mentioned on this list, it has enough room for a small table and a chair. Imagine
eating breakfast
and drinking coffee as you gaze upon the Eiffel Tower early in the morning! If that's not the Parisian lifestyle, then what is?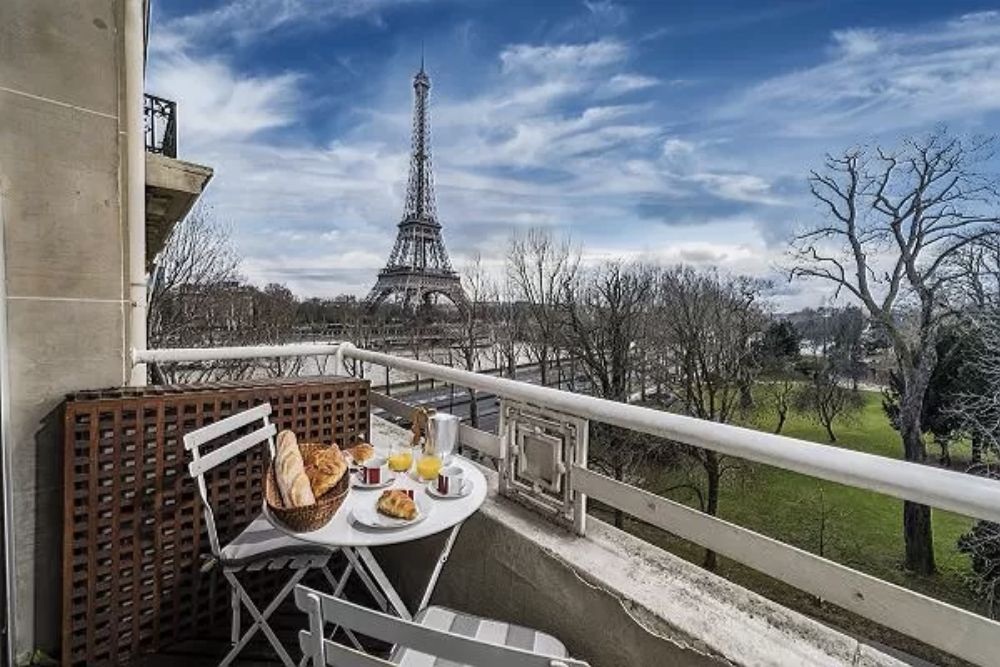 Tour Eiffel - Croix Nivert
Located in the 15th arrondissement, this three-bedroom luxury apartment isn't as close to the Eiffel Tower as all the others. If you want to visit the site yourself, you'll have to go on a considerable walk or even rely on public transport to go there. But if simply seeing it from afar will do, then you don't need to worry! You can still see the Eiffel Tower from here. Or at least, the upper half. The Haussmann buildings that surround the area block a good chunk of the tower from your view, but it's still a good sight nonetheless!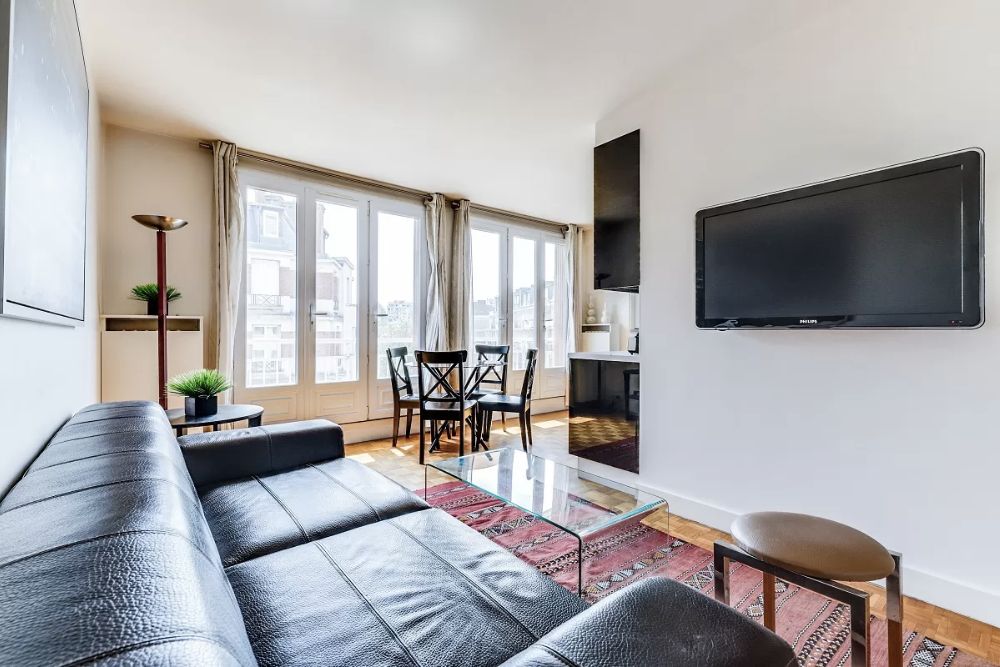 Rue Ribera II
This two-bedroom rooftop luxury apartment in Paris is located on Rue Ribera in the Passy neighborhood. It's all the way in the
16th arrondissement
, a bit farther than the other high-class homes mentioned so far. And as you'd expect, the view isn't as close as all the others. But that's not necessarily a bad thing! What you can see from here, especially on the fine rooftop garden, is the famous Parisian landscape that you've seen on postcards, magazines, social media, and more. This is the classic scenery that has made the French capital a popular tourist destination.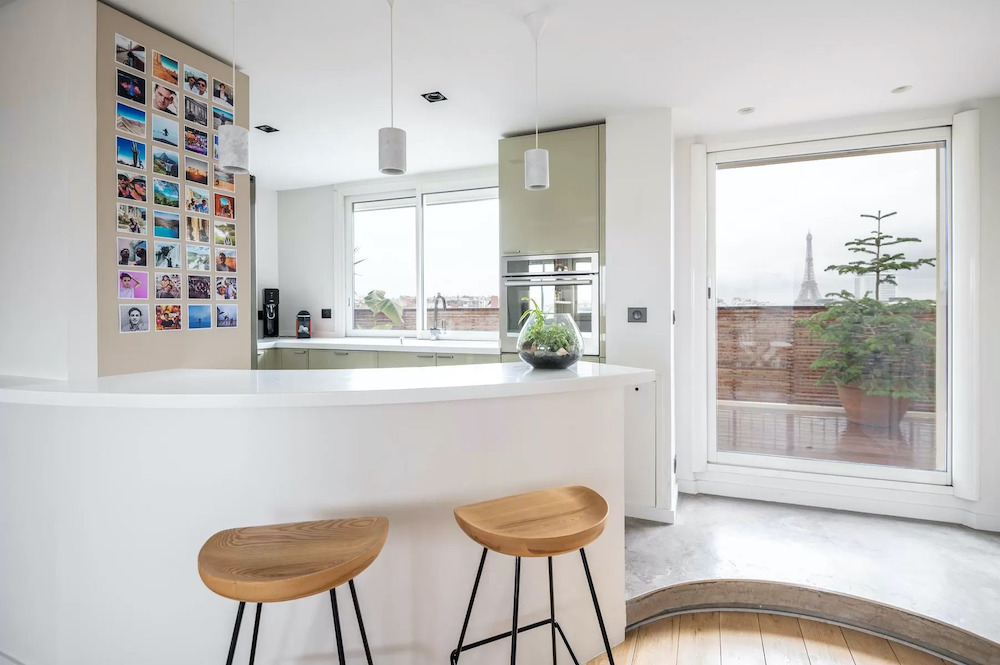 Starway Mansion
Going even further from the tower is Starway Mansion in Montmartre, all the way in the 18th arrondissement. The place itself is so far from the iconic monument that it'd take you a considerable amount of time to get there, even via public transport. Nevertheless, the views from here are simply breathtaking. Since you're technically up on a hill, you get to enjoy the Parisian skyline from this exquisite three-bedroom home. You can't even escape it too since one part of the apartment is practically made out of glass windows. Now that's an amazing view!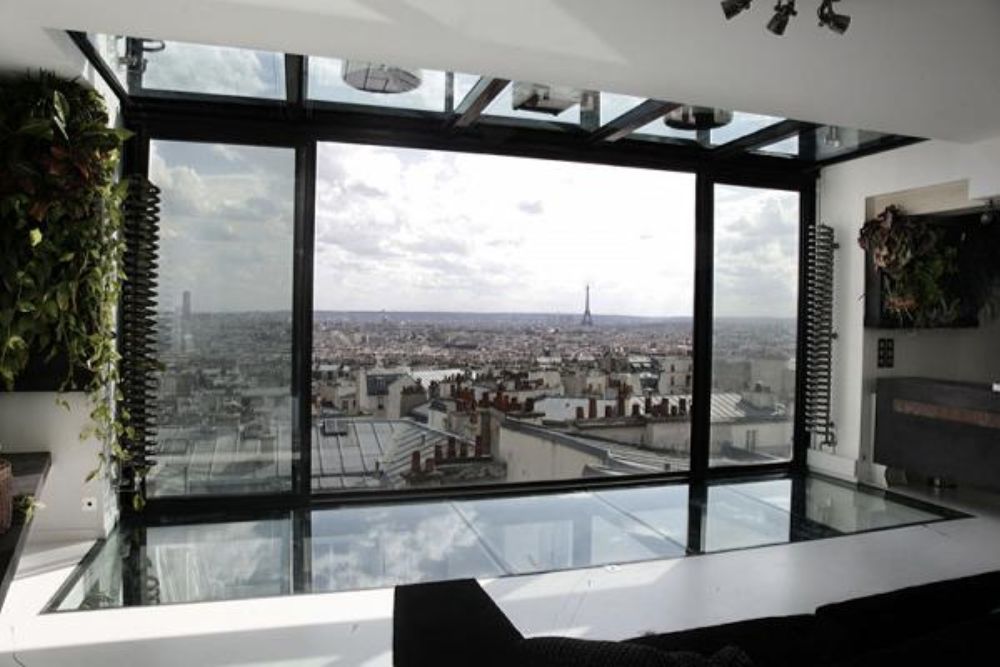 There's nothing quite like living in a luxury apartment in Paris that has a great view of the Eiffel Tower. It's so dreamy that it almost feels unreal. But don't you worry! If you rent any of these exceptional homes in the French capital, it can be your reality.