What it's like to live like a glamorous local in Paris? Having enough room for all your haute couture? Sure. A chic space where you can hold the most fabulous soirées? Why not? And getting to live only a few steps away from the city's most iconic monuments? Definitely! Sometimes, all it takes is the right luxury apartment in Paris to make you feel like a true
Parisienne
. The more you enjoy your time in your high-class home, the more you get used to the good life in the French capital. Just look at these amazing luxury rentals to find out!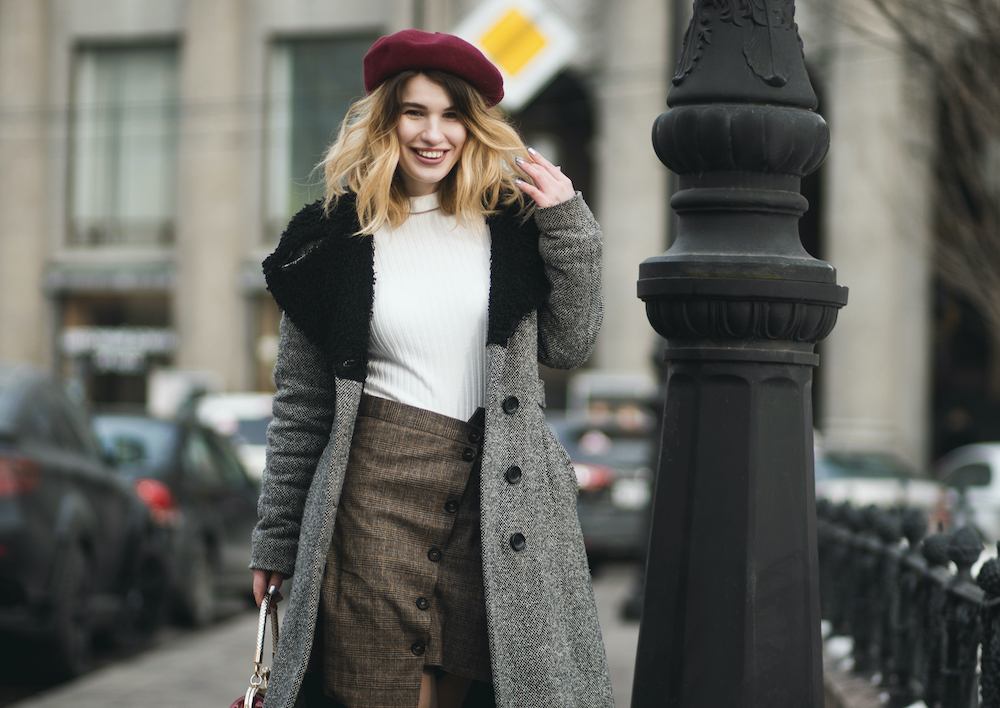 For The Shopaholic
Champs-Élysées - Iena
If you know anything about the Champs-Élysées, it's how luxurious the place truly is. It's among the most affluent
neighborhoods in Paris
, home to many high fashion boutiques, big-named brands, and more. So if you rent a place in the area, you can go on as many shopping sprees as you want. But it still has to match your glamorous Parisian lifestyle, of course! Take this two-bedroom rental, for example. Located at the heart of the district, it's big enough to fit you and all your stuff. Especially that cool walk-in closet!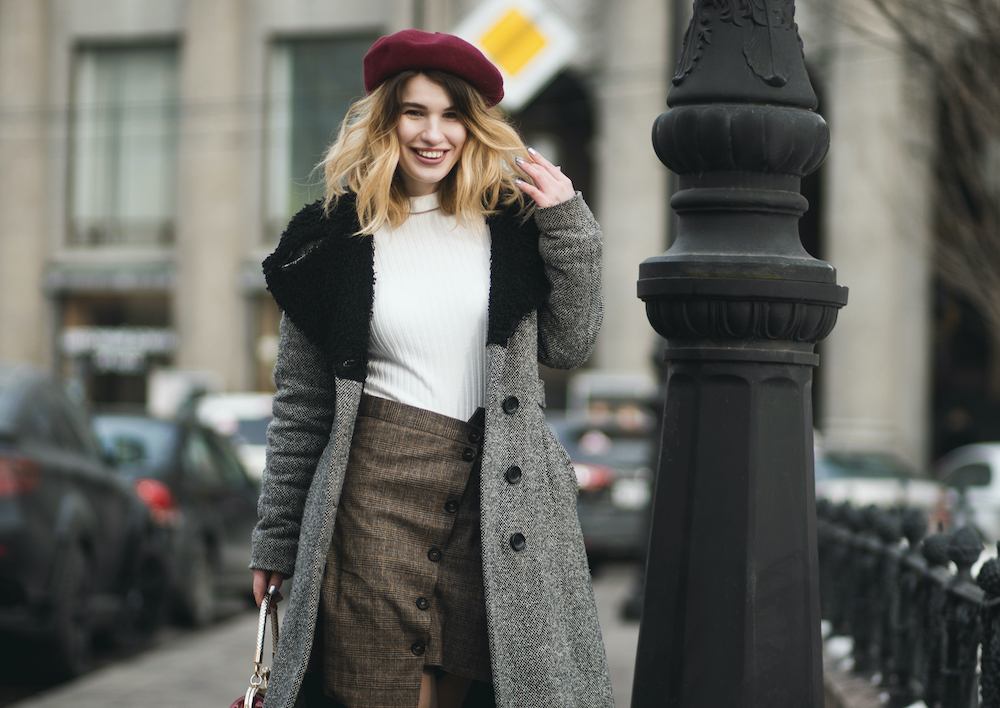 For The Urban Sophisticate
Champs-Élysées - Marot
With its gilded details, fine leather upholstery, and striking black panther coffee table, this three-bedroom luxury apartment in the Champs-Élysées is for the urban sophisticate. The entire place screams glamour, almost to an ostentatious degree. And only someone who's lived in big cities all their lives can truly appreciate such overt flamboyance. Minimalists be damned! Paris is all about opulence, is it not? And this exquisite rental that combines modern design with classic antiques highlights that.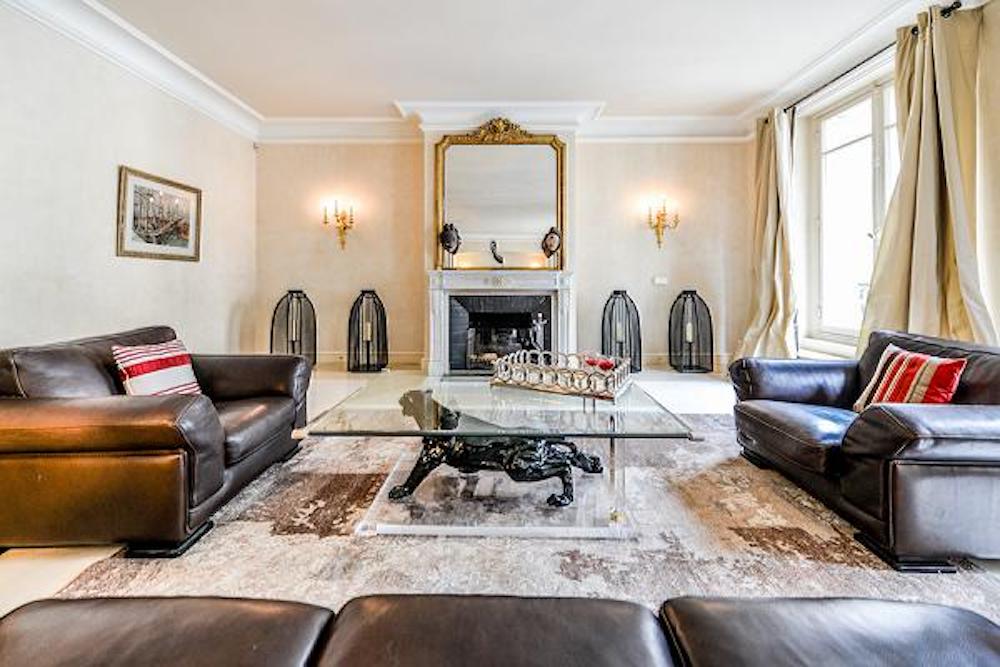 For Hosting Soirées
Parc Monceau – Rome
Parc Monceau, one of the finest parks in Paris, is also located in the
8th arrondissement
. Though it's not exactly within the Champs-Élysées area, it's still pretty near. And that park itself provides the perfect spot for a bit of outdoor rest and relaxation. You'll need it once you get to socializing in the scene. If you rent this chic three-bedroom luxury apartment in Paris, you'll have the perfect venue to host soirées. The space is big enough and the lighting is just right. You can have a ball with your new
friends in Paris
practically every night!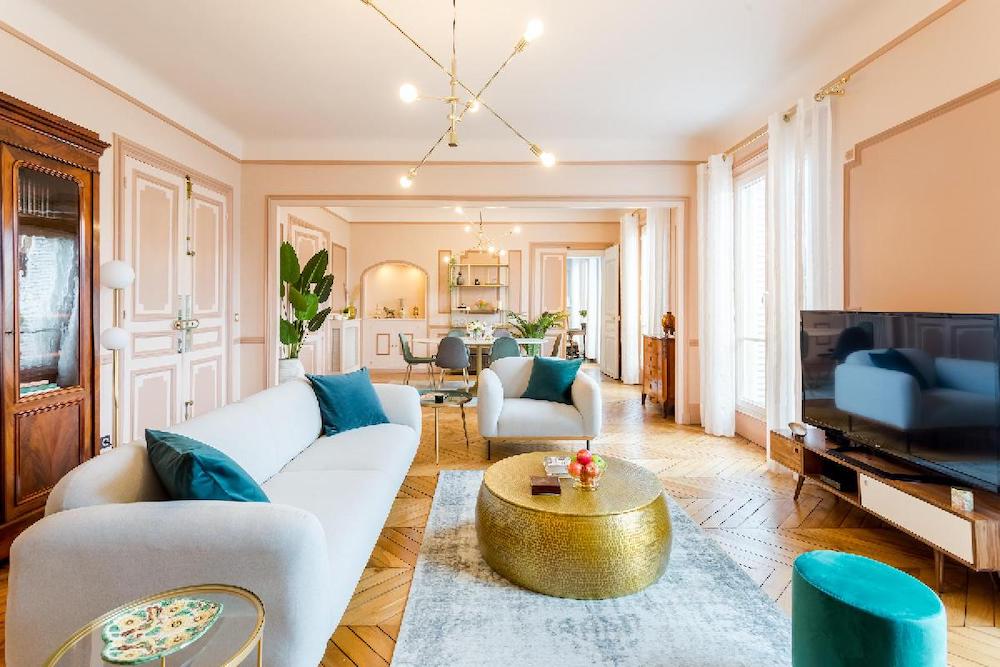 For The Maximalist
Champs de Mars - Quai d'Orsay
If you want to live like a glamorous local in Paris, you need to embrace your inner maximalist. This is the fashion capital of the world, after all. Whether through your clothes or your pad, embracing the city's glamour means accepting its affinity for opulence too. And if you're already a maximalist at heart, you'll love staying in this wild three-bedroom apartment along Quai d'Orsay. The sandy beige-painted walls paired with well-crafted wooden furniture and oriental rugs give it a historic appeal. While some details, particularly an eye-catching pair of tiger-print chairs & the antique Chinese cabinet, add such a fabulous flair.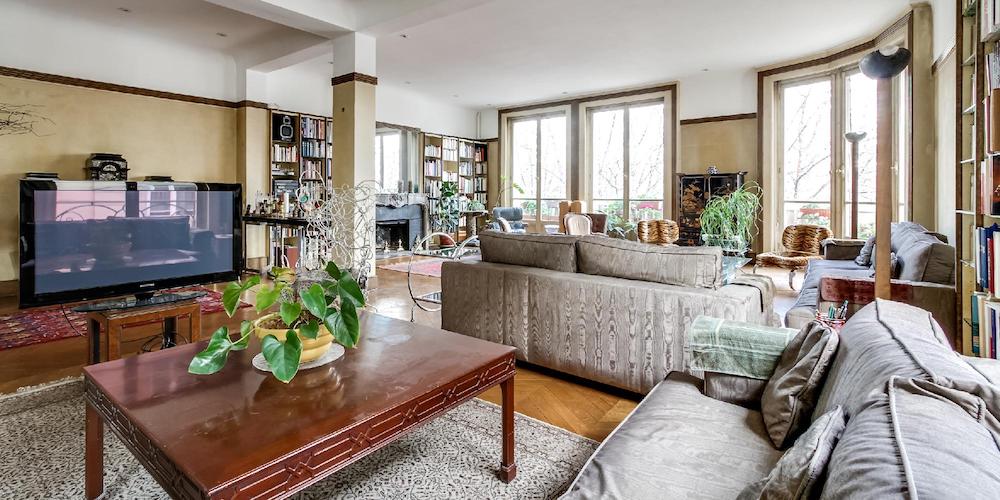 For A Great View
Tour Eiffel - Suffren
What's more quintessentially Parisian than a
luxury apartment with a great view of the Eiffel Tower
? No one can deny how glamorous you are if you score a place overlooking the iconic monument. And though there are plenty on offer, none are quite as chic as this two-bedroom flat. Located on Avenue de Suffren, you're literally neighbors with the Eiffel Tower! How crazy is that? Then there's the red-hot decor! Hints of bright crimson fill the space, giving it a painstakingly fashionable aesthetic that only Paris can provide.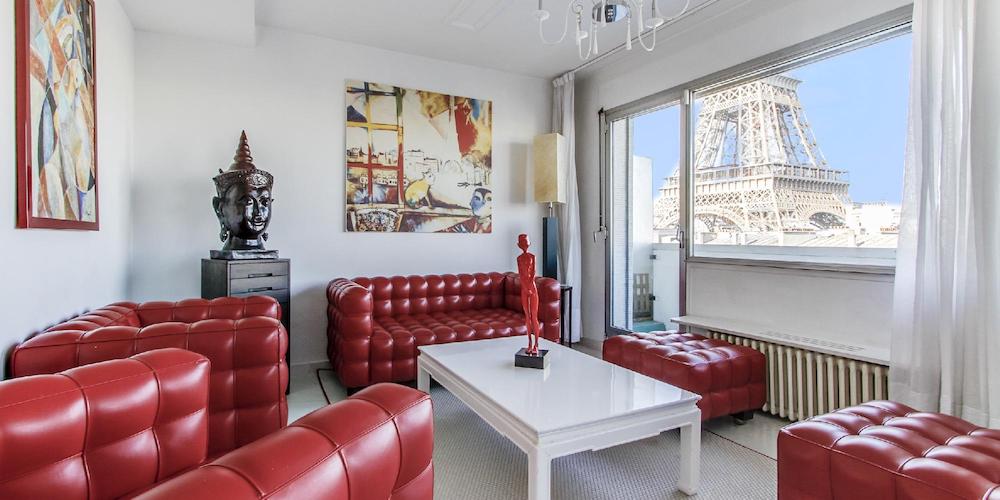 For The Art Lover
Passy - Trocadero II
Living a glamorous lifestyle in Paris often means embracing art as well. You go to art galleries, purchase a few pieces, and proudly hang them in your apartment. Sounds pretty ideal, doesn't it? But what if you just moved to Paris? Wouldn't it be better to rent a place that already has some amazing artworks in it? Say, like this tasteful two-bedroom apartment in Passy? Located in the
16th arrondissement
, the rental has all sorts of fascinating artworks hanging in practically every room. They provide the perfect pop of color in this classically white apartment.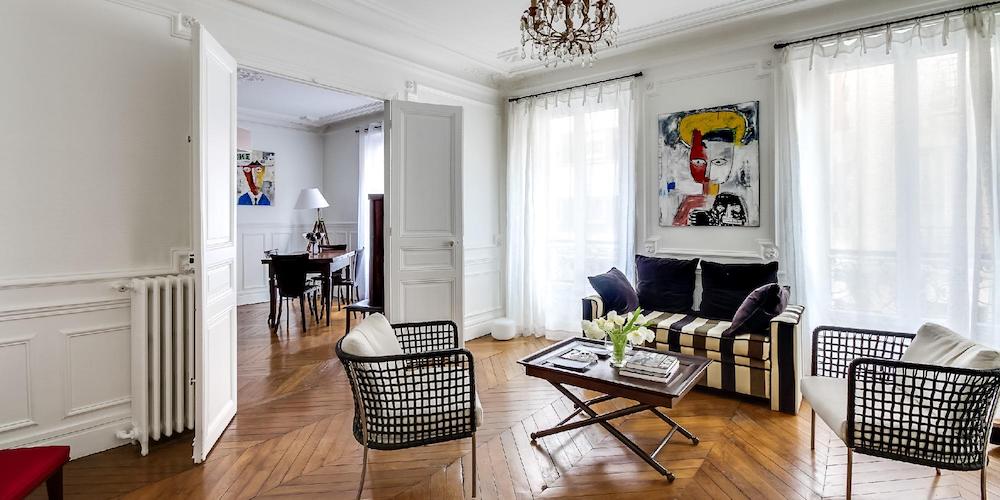 For The Intellectual
Victor Hugo IV
This two-bedroom luxury apartment on Avenue Victor Hugo seems like a pretty intellectual space, doesn't it? And this doesn't refer to how many books are on the shelves or if the TV is always on the news channel. Rather, the place exhibits an intellectual spirit. It's nowhere near big enough for a soiree, but it does provide the perfect space where people can discuss ideas, debate on topics, and have such interesting conversations. Moreover, the various knick-knacks that decorate the place give an almost global appeal. As if the resident has traveled all over the world.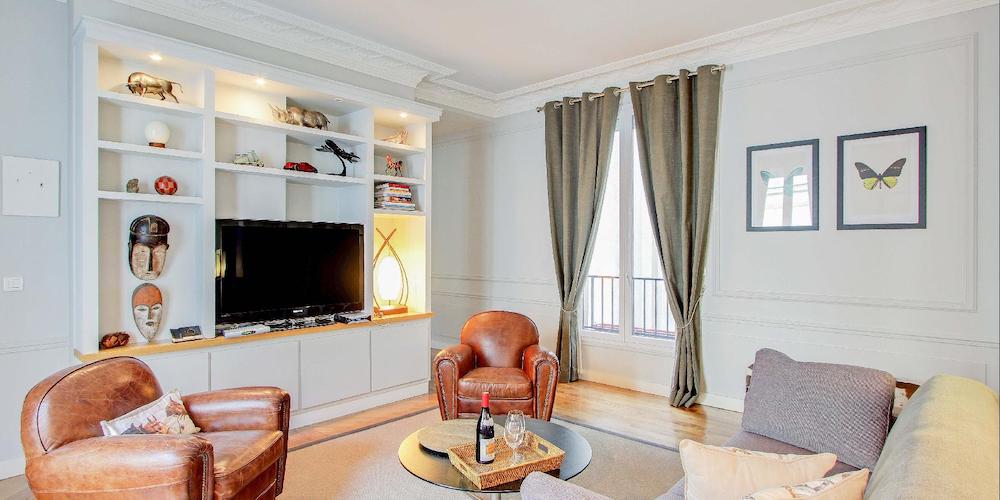 For The Chic Parents
Notre Dame - Fleurs
Just because you're now a parent doesn't mean you can still live like a glamorous local in Paris. Sure, you may have to make some sacrifices here and there, but not a lot. It's all in the choices you make. And if you choose to live in this chic three-bedroom apartment along Quai aux Fleurs, you can still embrace glamour while raising your family. For one thing, the place has enough space for you and your kids. It also doesn't look half bad, does it? From the colorful furniture to the exquisite antiques, the apartment doesn't look like an ordinary family home at first glance.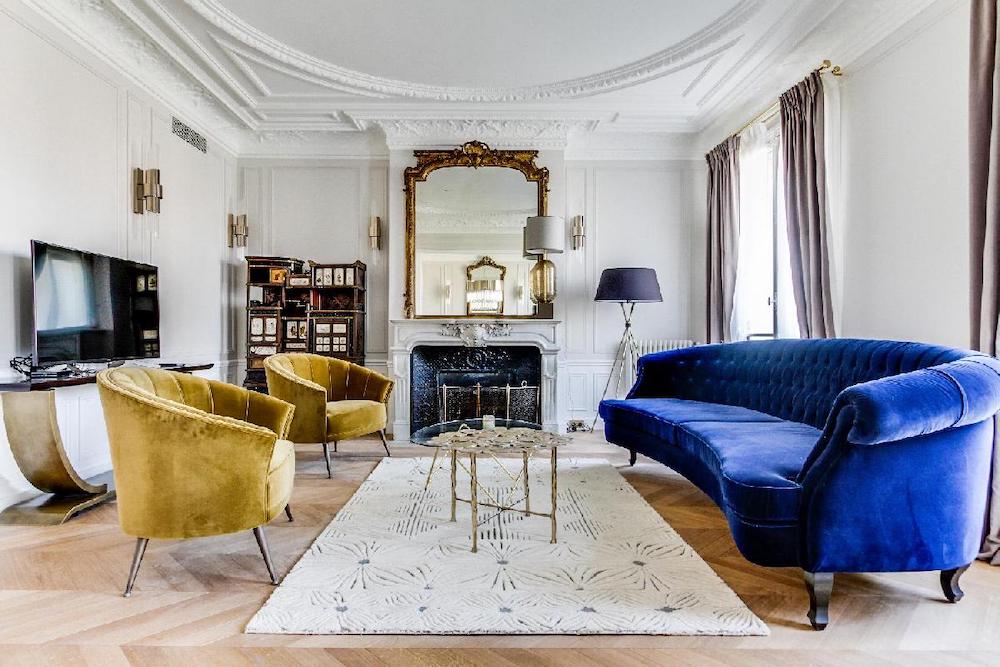 For The Romantic
Saint-Germain-des-Prés - Odeon
Saint-Germain-des-Prés is one of the trendiest districts in Paris so getting a place here already puts you one step closer to becoming a glamorous local. And then there's what your place looks like. What does this four-bedroom luxury apartment say about you? That you are a romantic. The pastel hues, the intricate wall trims, and the overall classic interior design all point out the historic beauty of the French capital. Largely feminine, sure, but all lovely nonetheless.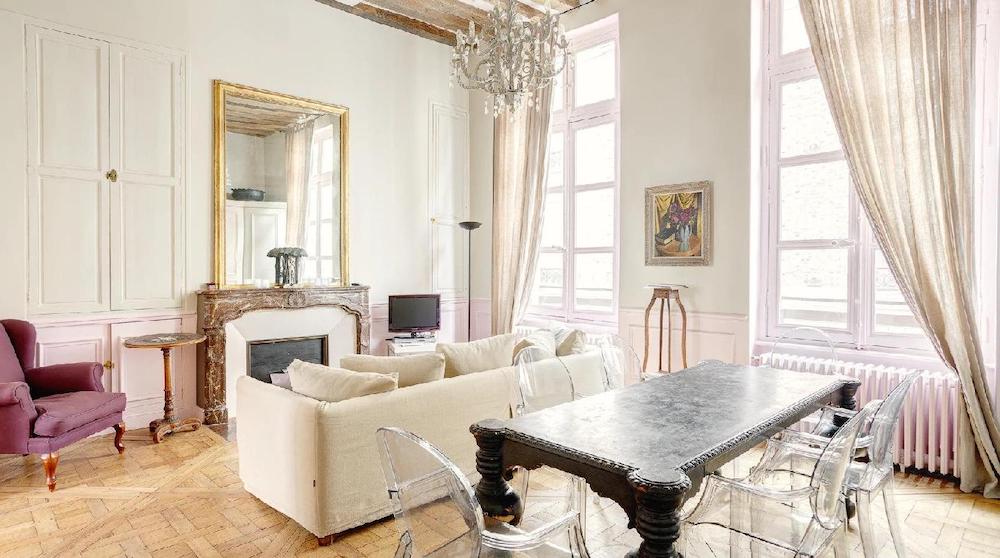 For The Classic Lover
Louvre - Luxury Grand Opera
And finally, if you just want to revel in all the classic beauty of Paris, look no further than this three-bedroom luxury apartment near Palais Garnier. Its location in the
1st arrondissement
alone already makes it such a worthy place. From here, you'll be fairly near many of the city's most beloved spots. And then there's the actual apartment itself. Bursting with old-world opulence, this place is pure Parisian glamour at its finest. You almost couldn't believe that you can rent such fabulous real estate!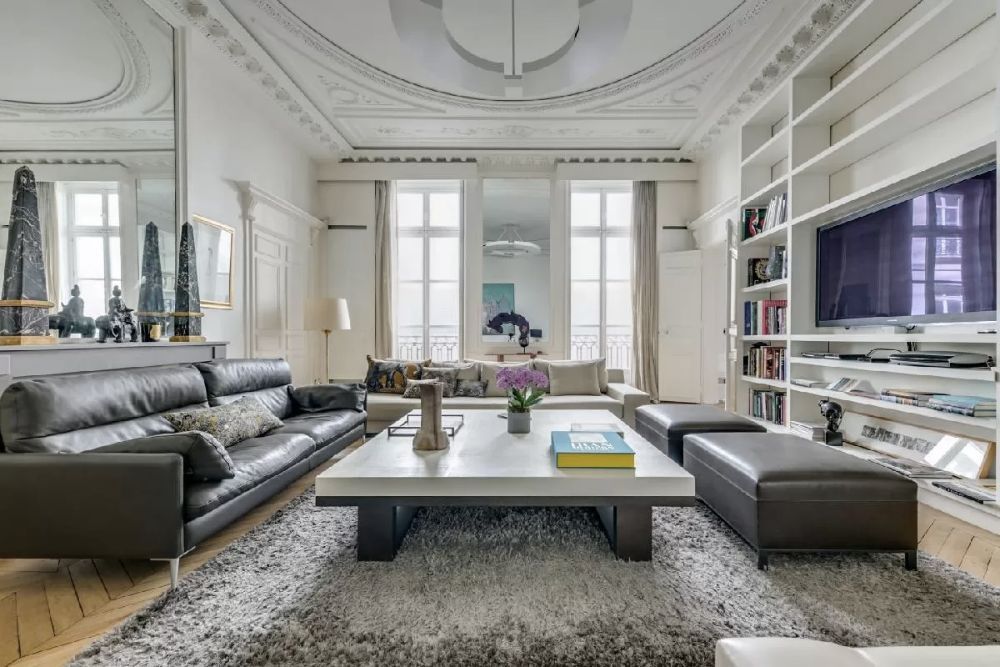 Picking the right luxury apartment can oftentimes be enough to make you live like a glamorous local in Paris. There are so many chic spaces that will suit any fashionable resident in the French capital.